SEN 2368 - looks like we forgot this one
Details

Category: Archive 2017
Hits: 1222
Table of Contents – SEN 2368
1.    North American Cup
2.    Ike Winter Classic/Kiwi Cup
3.    Comment on the Bern Contest
4.    Appreciation of Ian's work.
The Toronto Free Flight Group
Presents the 2018
North American Cup
An FAI World & America's Cup & Team Championship
Dates:Wednesday, February 14th 2018 with Thursday February 15th as reserve day
Place:  Bissonette Mirage Field, Lost Hills, CA USA
Events: Individual F1A, F1B, F1C, F1Q & 3 Person Team F1A, B & C (Teams can be mixed nationalities)
Entry Fees:  $30.00 for F1A, F1B, F1C, F1Q – Team entry included in fee
Juniors free all events!
AMA liaison CD: Brian Van Nest
Co-Organizer: Peter Allnutt: 527 Philippine St, Taft CA USA +1(661) 763-5039
Organizer: Tony Mathews:11233 Hwy 118, Haliburton, Ontario, Canada K0M1S0 +1(705) 854-0698 (cell)
E-mail: This email address is being protected from spambots. You need JavaScript enabled to view it.This email address is being protected from spambots. You need JavaScript enabled to view it.This email address is being protected from spambots. You need JavaScript enabled to view it..This email address is being protected from spambots. You need JavaScript enabled to view it.
Wednesday February 14th
F1A/B/C/Q Round 1 8:00 am – 9:00 am.     Rnd 1: 240 sec max F1A/B/C 180 sec max F1Q
                   Round 2 9:00 am – 10:00 am
                   Round 3 10:00 am – 11:00 pm  180 sec round 2-4, round 5 - 240 sec weather permitting
                   Round 4 11:00 am – 12:00 pm
                   Round 5 12:00 pm – 1:00 pm
F1A/B/C Fly-offs start earliest3:30 pm to 6:00 p.m. Latest (weather permitting – or Sunrise Thursday morning)
Trophies for 1st, 2nd and 3rd place F1A, F1B & F1C & F1Q. Medals for 1st, 2nd and 3rd place Teams.
Medals for top Junior in each event also! Champagne and snacks will be available Wednesday evening starting at 6:30 pm. Final awards ceremony will be after the final flyoffs.
(Sunrise for Feb 14th – 6:46 am Sunset – 5:40 pm)
Deviations from the FAI sporting code and special instructions:
Competitors MUST provide their own timekeepers. Round 5 max time will be 240 sec or less depending on the weather conditions. Fly-off Max times and start time will be decided on the day by the Jury depending on the weather.
Team scores will be decided by the total time of the 3 contestants including flyoff times (ie: not as per the sporting code).
Note: A Starting "area" will be utilized without pole positions (depending on entry numbers)
 Link to the pre entry form (Cut and paste it into your browser):https://goo.gl/forms/e5CgRY0C3zcN91sL2
Entry fees to be paid on the field beforeFeb 14th (someone will be available to take entries on the field on Tuesday Feb 13th from 12:00 pm to 4:00 pm)Note: it will be possible to pay for as many Fab Feb competitions as desired on the field starting Feb 09th 2018 
Online entry at : https://goo.gl/forms/e5CgRY0C3zcN91sL2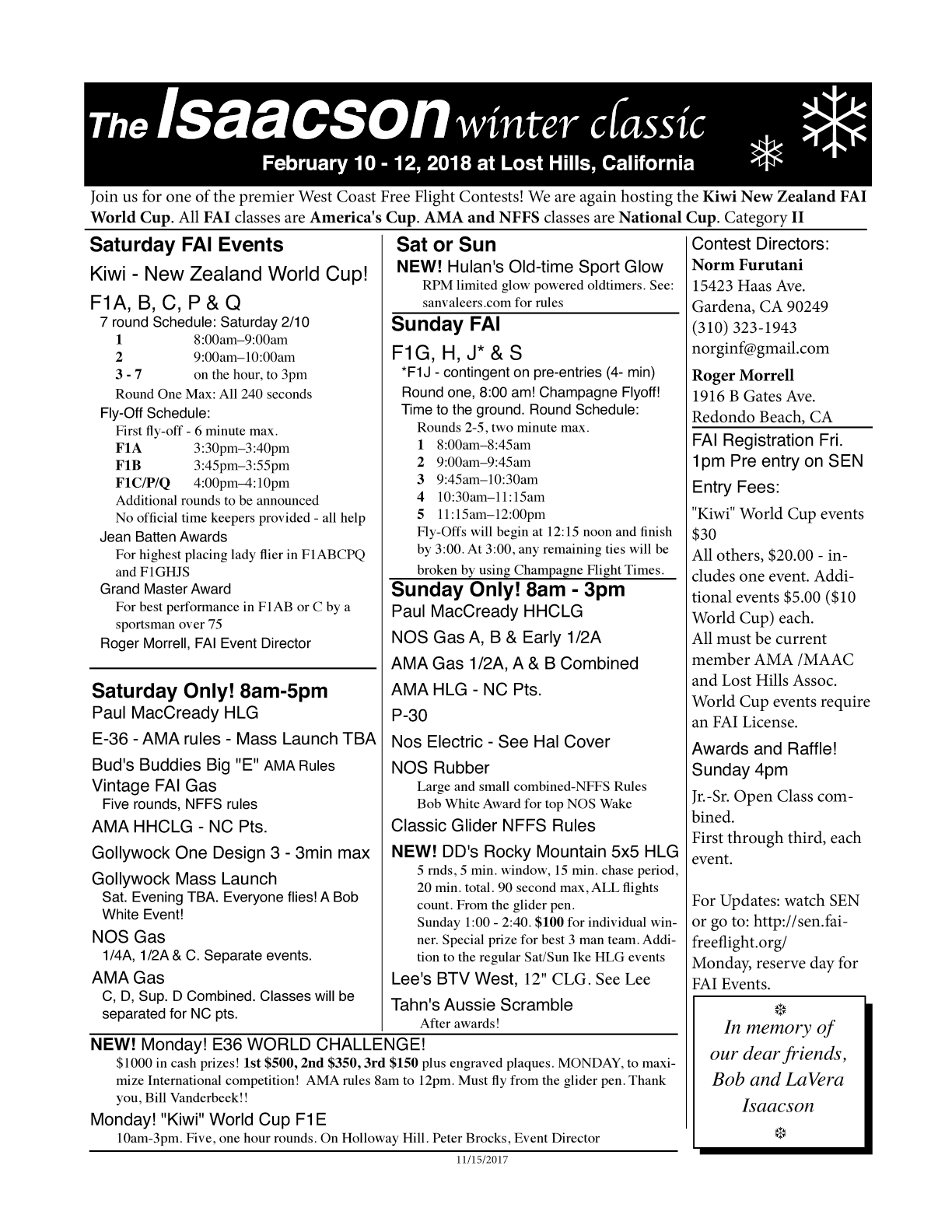 Comment on the Bern Contest
I want to say a few words about the competitions in Bern.
Sorry, but I do not agree with the opinion of  Frederic Aberlenc.
We had great luck with the weather. The forecasts were much worse.
Given the weather forecast and a short daylight day, I conclude that the organizers have done everything possible to conduct and complete the competition.
My opinion is that the organizers made the right decision for the maximum flight in the 5th round. As on Saturday, and on Sunday. Flyers should be  treat with understanding  to the organizers. There must be a compromise. Otherwise, it's impossible to finish the competition.
Once again, many thanks to the organizers for the excellent competitions!

Apologies for my English.

Stepan S.
Editor's Comment:
There maybe a small mis-communication here.  I'm not sure if Frederic was complaining about increasing fly off to 6 minutes, maybe  the problem was that it was not 6 minutes for everyone   but only 6 minutes for those that were  clean.  This made the contest a kind of 4 and half round event.  While it did not change the winner of the event it could potentially change places lower down and allocation of World Cup points.
Appreciation of Ian's work.
I feel I would just like to speak up for Ian Kaynes. You will arguably not find a more honest or fair man than Ian . Merry Christmas to all, 
  
Walt Hodkinson.